VIBESTOWN PRESENTS
Party In The Paddock
(Re-Birthed)
2023 -
The Paddock is back!
Reincarnated in 2023, and continues annually in February. This year, we return to the new site on 8th-12th FEB 2024. Same old Party but in a new Paddock, rebirthing onto our beautiful new site in Northern Tasmania (Quercus Park). PITP relaunches with its biggest music lineup to date, a greater emphasis on art, culture and immersive experiences. Join the Paddock for its special comeback and as fate would have it, PITP's 10th year celebration! With a whole new chapter of magic memories to be made, stay tuned for more and see you in the Paddock!
MORE INFO
VIBESTOWN PRESENTS
Haydays Music Festival
2023
'HAYDAYS' is bringing some of the hottest international acts in the current global market to Hobart City. The large-scale, two-day/night, non-camping music festival will see 5,000 punters on the 27th & 28th December 2024. Particularly leaning into 'Electronic Music' as a feature genre, via a new location for events, founded just 10 minutes from the Hobart CBD, at the picturesque Cornelian Bay. A stunning location with both bay and mountain views, seated under the great kunanyi/Mount Wellington.
For Vibestown Productions and its flagship event 'Party In The Paddock' it also provides another storyline in the next chapter to this ongoing tale; as 'Beyonce' has a 'Solange', so will PITP have a brand new baby sister in 'HAYDAYS' - the sleeker 'tastemaker' sibling that is about to hit the island. 2023 sees the first iteration of the festival that is set to be an inaugural event for many years to come.
MORE INFO
VIBESTOWN PRESENTS
Party in the Apocalypse
Party In The Apocalypse - Pt1 and Pt2. 'PITA' was the (COVID-safe) urban rendition of the late, great PITP and was inspired by the wild times that we lived through. With a fresh perspective on the word 'Apocalypse' and its origin meaning of fundamental change, it's an important time for music, culture and art to stay alive.
Part 1 held on the 27th and 28th of December in Launceston and Part 2 held on the 25th and 26th in Hobart, this two day, non-camping music & arts festival battled with the ever changing COVID19 restrictions to bring some of the country's best bands to the state.
MORE INFO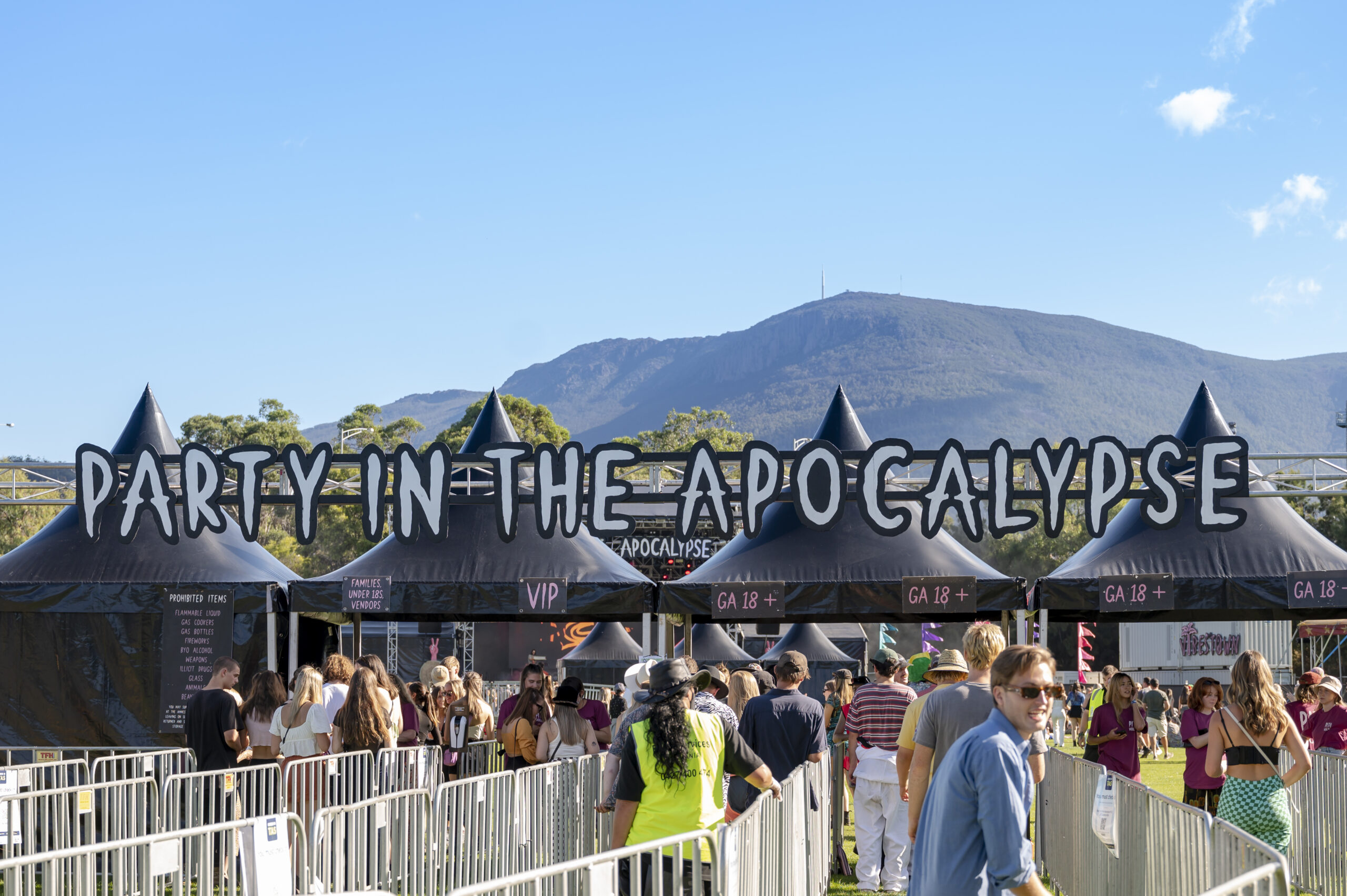 VIBESTOWN PRESENTS
The Basin-ish Concert
2021
The Basin is back! One of Tassie's most iconic music festivals, 'The Basin Concert' was brought back to life March 26th-27th 2021 via a successful 2021 COVID-safe rendition, 'The Basin-ish Concert' took place at Inveresk Precinct. For two huge days and nights of music and festive celebration, the re-imagined Vibestown event provided something fresh for generations of festival lovers across the state and beyond, while paying homage to the long history of the event. Once known for holding the title of Australia's longest-running outdoor concert, spanning for more than 30 consecutive years, The Basin Concert was established in 1969 ~ It's time to bring more of those good times back this summer!
Learn more
VIBESTOWN PRESENTS
Party In the Paddock
(White Hills Location)
2012 - 2020
Rest In Party 💀 2012 ~ 2020 ✨
The notorious PITP spanned for close to a decade and became a staple for many young festival goers across the country. From it's humble origins as founder Jesse Higgs' 21st birthday party and mainstages made of hay bales, it evolved rapidly into one of the countries most celebrated music festivals, maxing out at 9000 punters 8 years on. Gaining the support of AUS radio champions triple j in 2016, PITP went on to book some of the country's greatest bands of the last decade, including internationals 'Lily Allen' and California's 'Grouplove' to name a few, "One of the best festivals we've ever played. It's what you hope festivals are like…" Grouplove, 2018. This regional-boutique-wonderland ordained a cult following unlike no other and became famous for it's ridiculously scenic location, incredibly solid and beautifully diverse lineups, championing of safe spaces for its diverse audience, a strong environmental sustainability and ethos. All in all; it's goood vibez… Rest in Party...
Learn more
VIBESTOWN + LUCA BRASI PRESENT
'Til the Wheels Fall Off
2016 - 2019
Til The Wheels Fall Off, needs a seatbelt warning before entering! It's general knowledge that this notorious Tassie weekender is just a great excuse for local punk royalty 'Luca Brasi' to get all of their best mates and favourite bands together for one hell of a bender! Although the amount of Red Boags consumed is on par with the amount of brilliant live music, featuring some of the country's best up and coming punk music and heavier rock genre artists. TTWFO was founded by the 'Luca' boys themselves back in 2014 and has very much enjoyed a blistering 6 years, taking a pause in 2020 to assess if "the wheels have fallen off" yet! Who knows what looms around the COVID corner, hopefully more of these weekends!
VIBESTOWN PRESENTS
Royal Eve
2016 - 2017
For a two year stint, from 2016-2017 Vibestown took on the honorary role of running Launceston's official NYE festival. Held on the waterfront of Royal Park, Royal Eve had an annual turnout of 6500 punters and provided the greater Launceston community with something special to do on NYE. Featuring local and interstate musical lineups with acts such as Blue King Brown and The Wolfe Brothers, the festival also had a big emphasis on family fun activities and the highly anticipated NYE fireworks. Royal Eve was a great time for many and an all inclusive NYE celebration for everyone.